Getting started with play-based learning in early years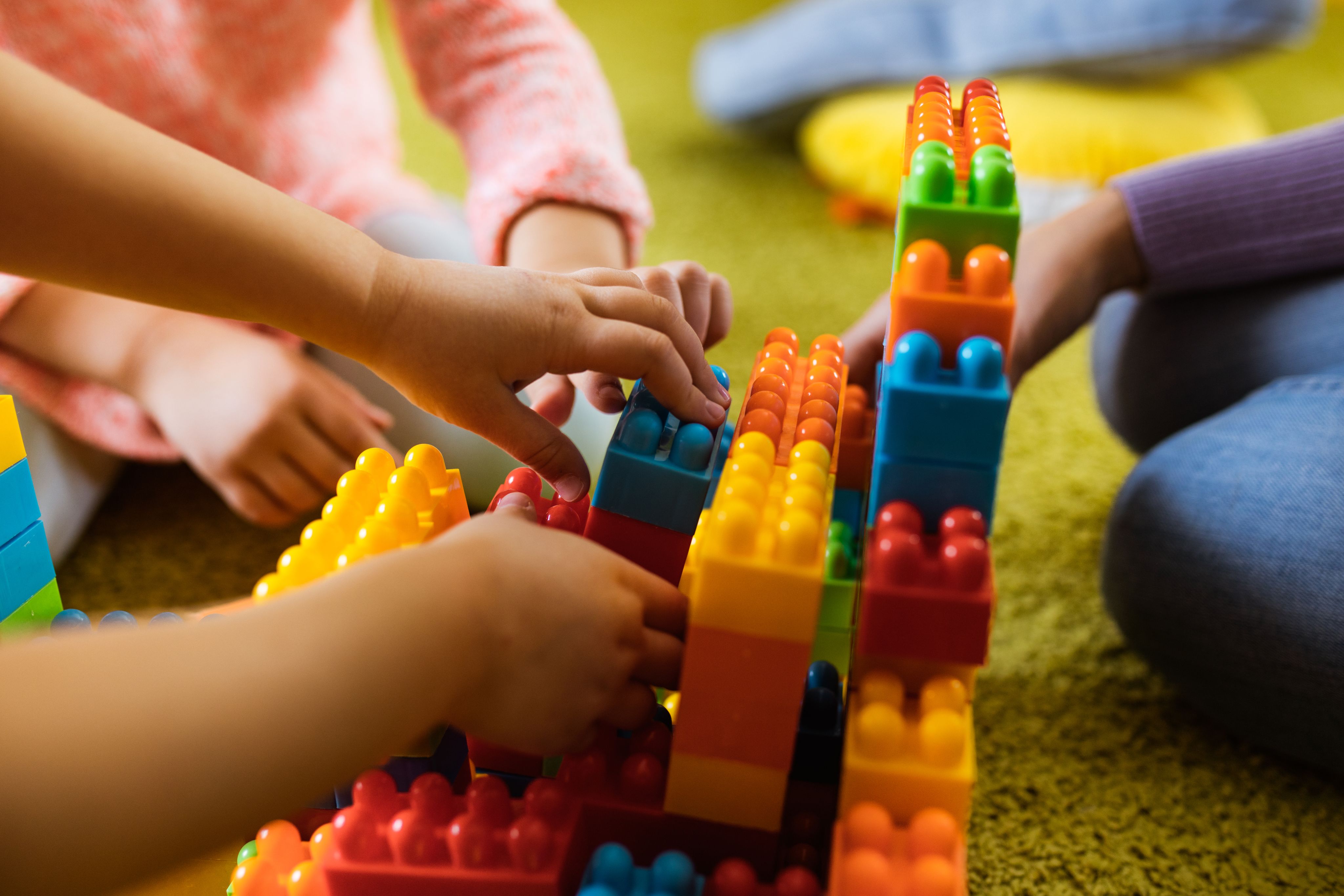 What is play-based learning?
As the name suggests, play-based learning (or playful learning) is an approach to teaching and learning in which children, with the support of skilled practitioners, develop knowledge and skills through actively taking part in play.
Play is generally seen as something which we enjoy, but it is not just the opposite of work. Because play involves spending time doing activities which are meaningful to us, it stimulates higher levels of thinking and helps children to make significant progress in all areas of development.
In play a child is always above his average age, above his daily behaviour; in play it is as though he were a head taller than himself. As in the focus of a magnifying glass, play contains all developmental tendencies in a condensed form; in play it is as though the child were trying to jump above the level of his normal behaviour
There are many different types of play, including:
play with objects or materials
physical play
pretend play
symbolic play (with symbolic systems we use to convey meaning, such as language, drawings and other visual arts, mathematics, music and dance) and
games with defined rules (or rules invented by the children).
You can find out more about these different types of play in this video.
Consider: What types of play do you notice most in your setting? What types of play would you like to encourage more?
Effective play-based learning takes place when children are given space, time and autonomy to engage in activities and interact with resources that are meaningful and interesting to them. This may involve children playing with other children, with adults or alone.
By encouraging curiosity and social interaction, play-based learning provides the foundations for lifelong learning and encourages high levels of wellbeing and engagement.
In this guide, we will look at what the research says about play and play-based learning and make suggestions about how you can improve your practice in following this approach. We will also provide prompts for reflection and further study. Although we will focus on young children (those aged around three to six), you can apply many of these principles with learners of any age.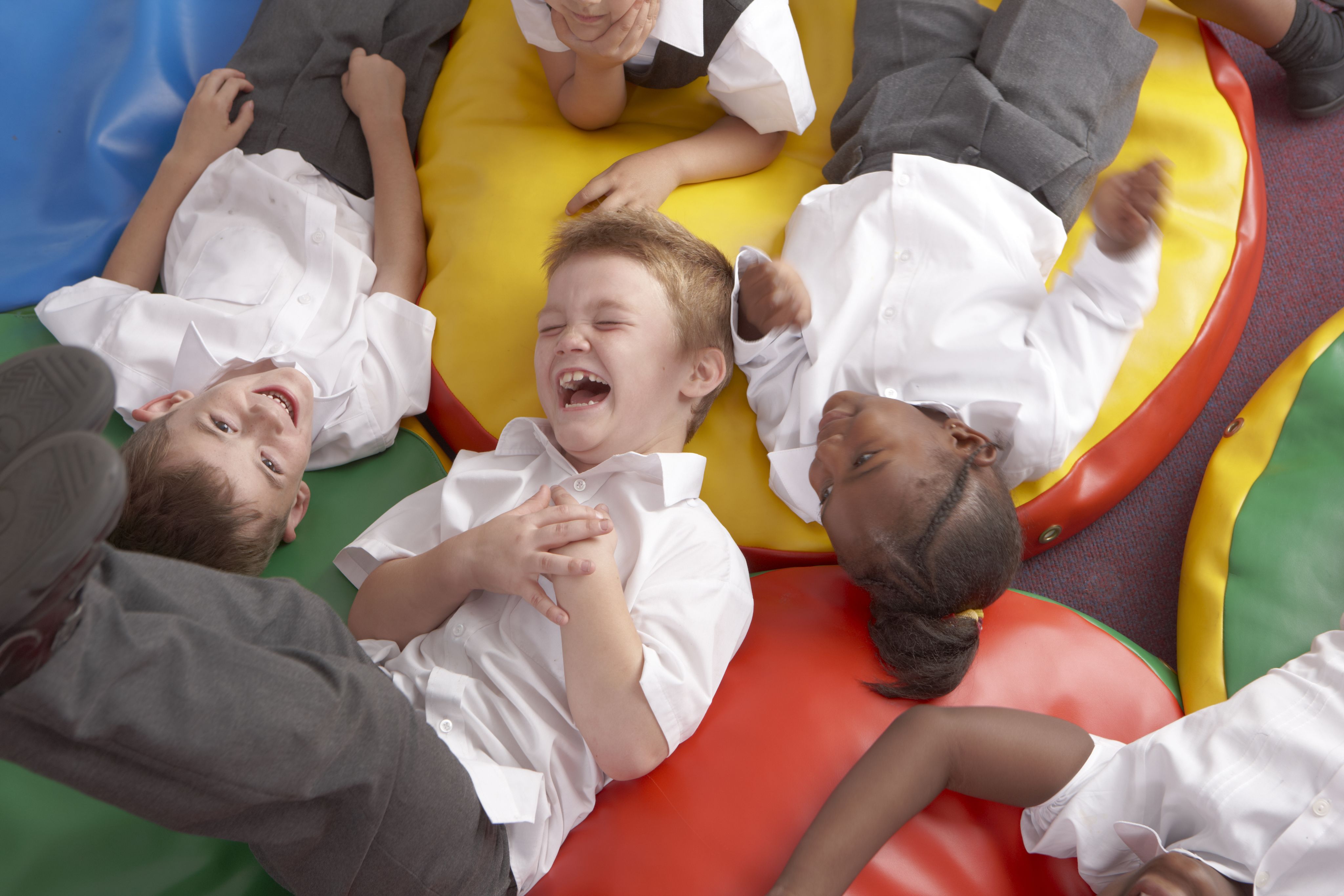 '…the evidence on learning through
play is mounting; more than an enjoyable experience,
engaging with the world in playful ways is essential for
laying a foundation for learning early in life.'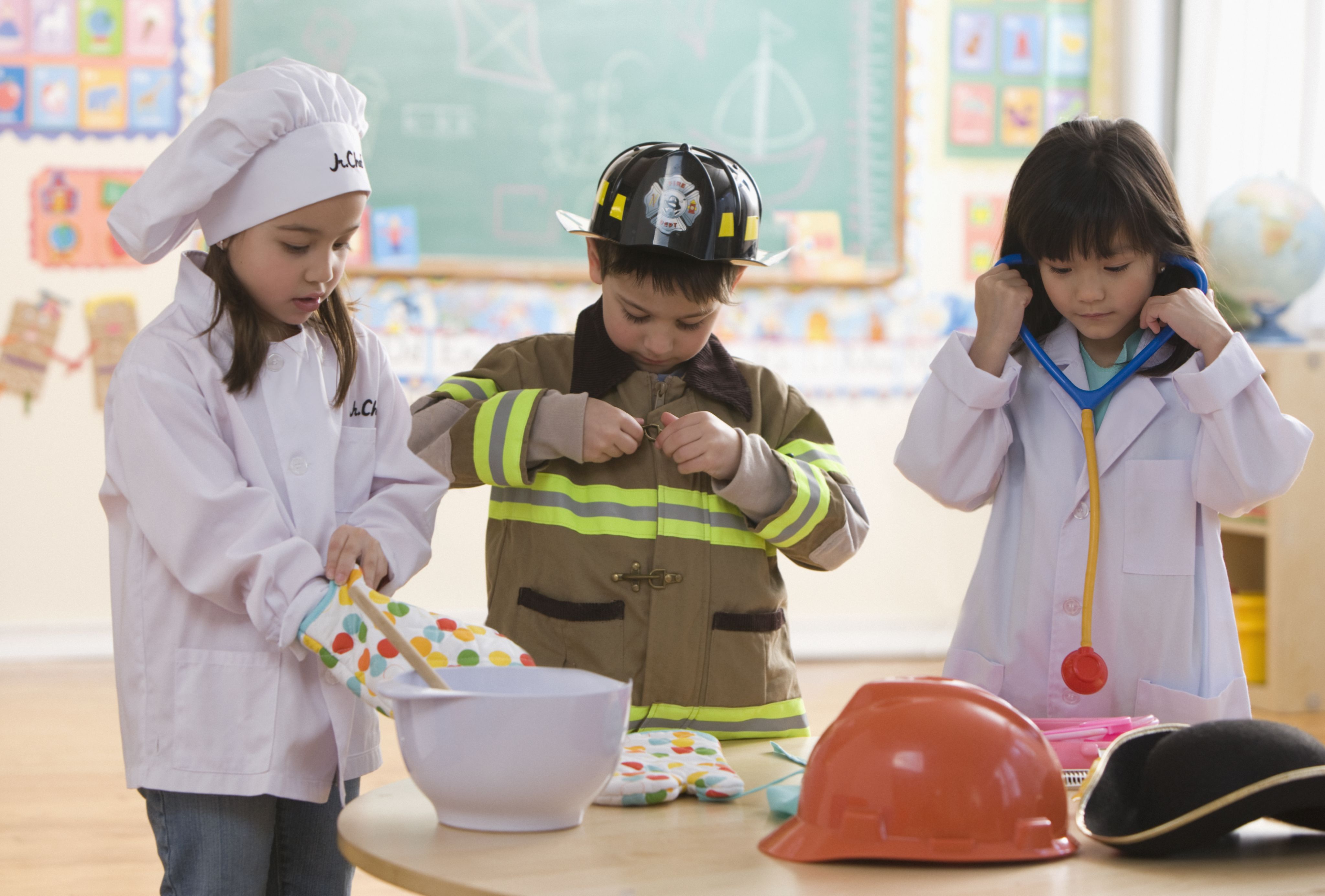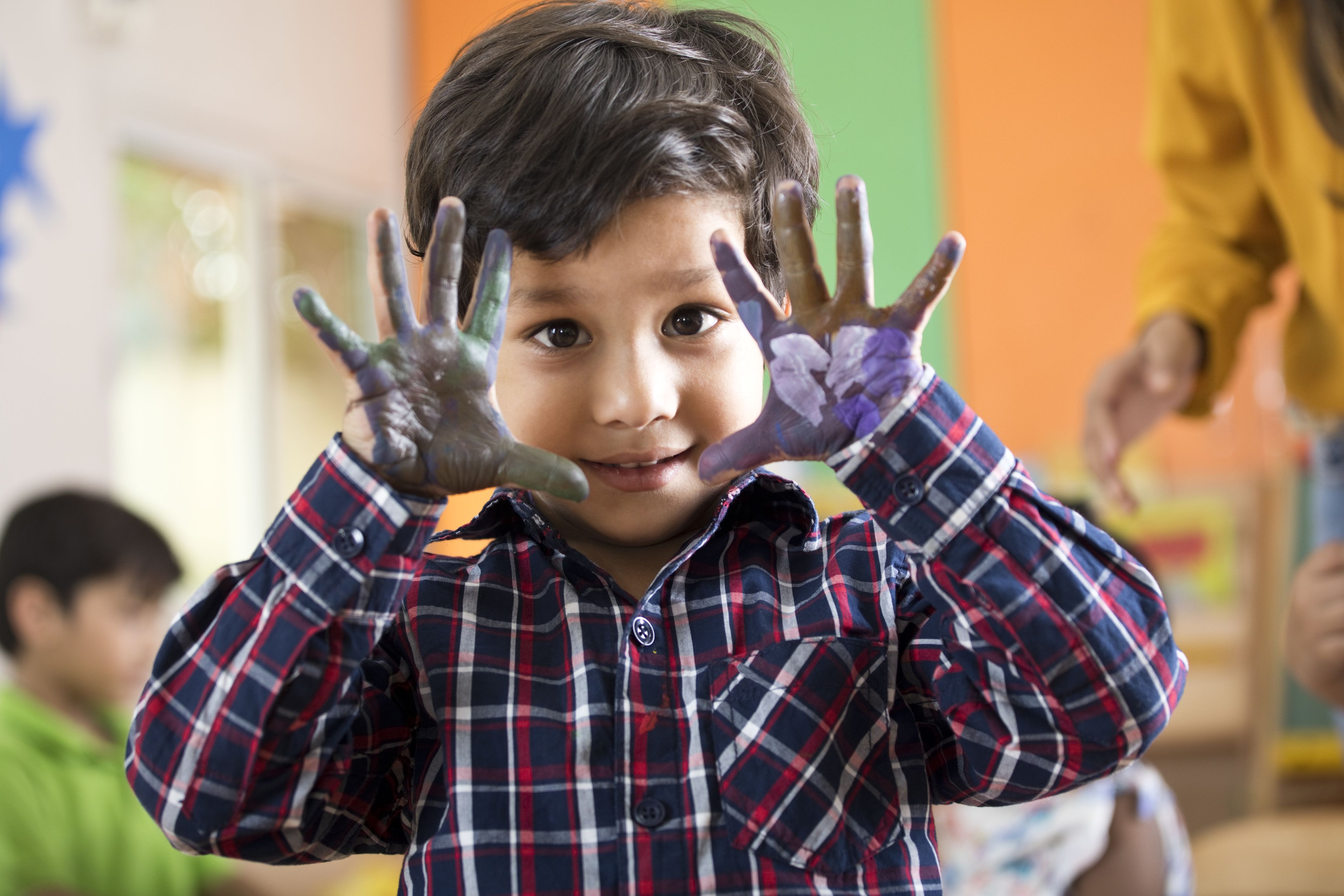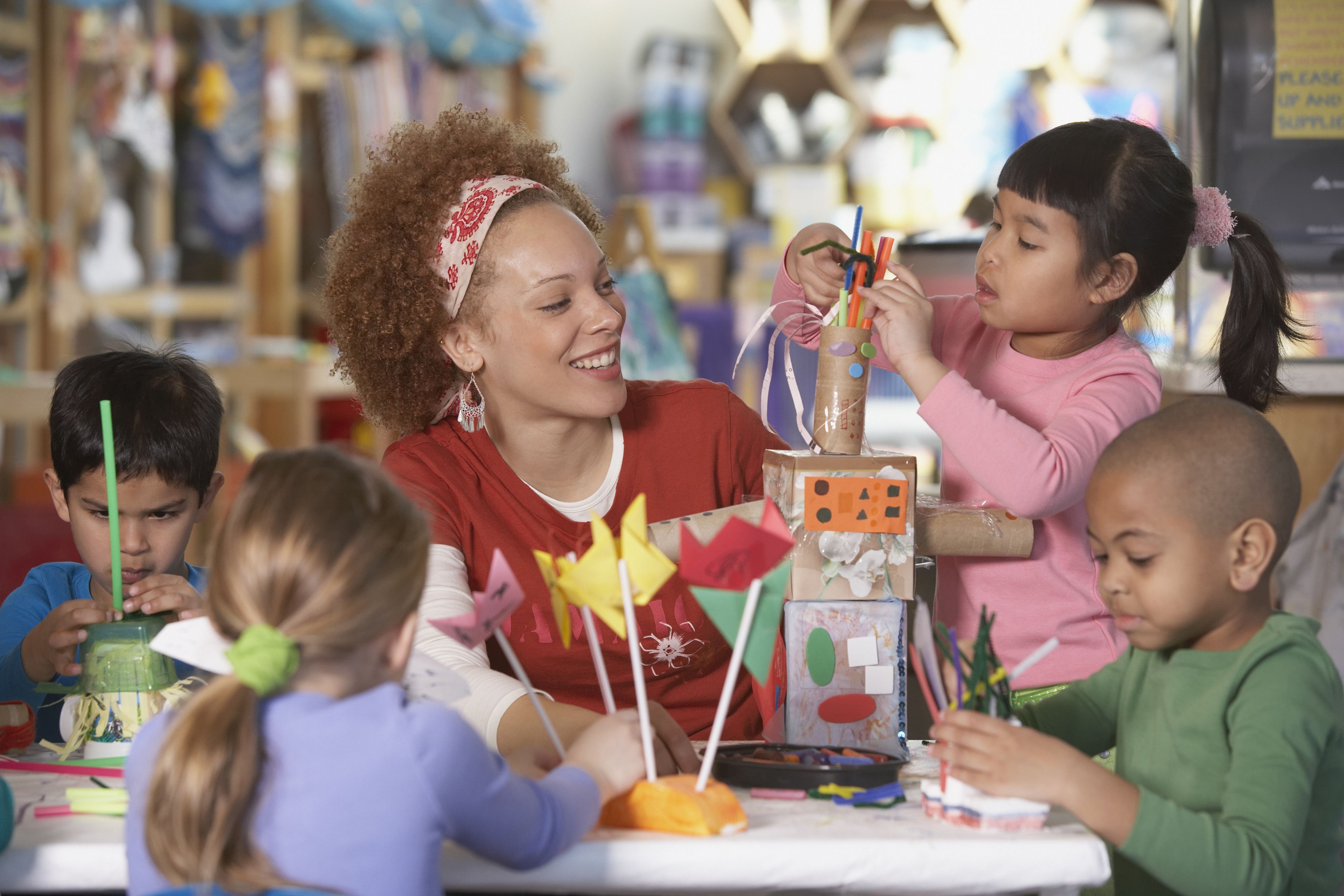 Benefits of playful, continuous provision in the Early Years
Play-based learning strengthens development, especially in the early years. Play is essential when implementing a holistic curriculum and supporting all aspects of child development. For example, play-based learning often involves social interaction, which is vital for language development and also helps children to develop friendships, which are an essential part of social and emotional development. Play-based learning also supports cognitive and physical development by allowing children to build their working memory and make connections through actively taking part. For example, mark-making supports children's fine motor skills (physical development) as well as their understanding that writing conveys meaning.
Play-based learning helps children to develop their social and cultural identities and positive relationships. Play-based learning, especially when it is child-initiated, gives children greater freedom to experiment with different identities. For example, during a role-playing game, a child might pretend to be a mischievous character by deliberately making a mess and refusing to clean up. Opportunities like these help children to test which behaviours get the most favourable responses, helping them to see what is most appropriate in their wider social context. Similarly, children may mimic cultural customs in their play (for example, marching when pretending to be a soldier or bowing to show respect to a child wearing a crown). Sensitive and appropriately timed interactions from skilled practitioners help children to reflect on these experiences and begin to form a deeper understanding of their social and cultural identities. Play-based learning also provides children with countless opportunities to rehearse interpersonal skills such as co-operating and working with others, and this in turn helps children to build positive relationships.
A play-based approach encourages positive behaviours for learning. Child-directed, play-based learning requires children to make decisions about how they spend their time and the amount of effort they put into activities. This supports perseverance, resilience and intrinsic motivation (that is, the desire to do something which is driven by a child's own goals or ambitions and does not depend on reward or praise from others). A good example of this can be seen in a study in which four- and six-year-olds were able to more consistently focus their attention when they were pretending to be a superhero (see White, Prager, Schaefer, Kross, Duckworth and Carlson, 2017). These positive behaviours for learning are all related to good self-regulation.
Play-based learning encourages self-expression and creativity. A play-based approach gives children the time and space to interact with open-ended, multi-sensory resources, resulting in plenty of opportunities for self-expression and creativity. For example, when provided with spoons, containers and teabags of different flavours, some children might brew, smell and taste the tea they've created, while others may use these resources to create tuned percussion instruments by filling the containers to different levels and noticing the different sounds they make when tapped with spoons.
Play-based learning in a familiar environment helps children to become more comfortable with risk-taking and problem-solving. Children feel a sense of security and belonging in a familiar environment. When this environment has resources which capture children's interests, they will explore and investigate. As they play, children develop the confidence to direct their own learning, try different ways of achieving a task or solving a problem, and take risks without fear of failure.
Play-based learning helps practitioners to plan and make decisions about their methods and practices of teaching (pedagogy). As children perform at their highest levels during play, observing play-based learning provides valuable information, on which you can base decisions about learning experiences you will make possible by making changes to the learning environment and through your interactions with children. In this way, you can improve your practice and also support children's levels of wellbeing, engagement and progress.
This video provides a summary of the many benefits of play and play-based learning. The interviews in this video were recorded by early years practitioners at home during the pandemic in 2021.
As you watch the video, pause, and think about moments when you have observed children in your setting demonstrating these benefits. If you have noticed children building confidence and developing their own unique identities, how did you contribute to this? How did the learning environment contribute to this? How could you make more of these moments happen every day?
What does the research say?
A play-based approach to teaching and learning is not a new idea. In fact, even in the 19th century the work of German researcher Friedrich Froebel (1782–1852) showed that young children build their understanding of the world by playful, child-initiated interactions with their environment (especially the natural world). Froebel's observation helps us to understand that, even without toys, children can interact with their surroundings in ways that provide them with enjoyment and help them make sense of the environment.
The importance of the learning environment in a play-based approach was also highlighted by British psychologist Susan Isaacs (1885–1948). She said that the learning environment and the role of the practitioner were both important in enabling play, and that play should be recognised as children's work. From Isaacs' and Froebel's observations, we can see that the people and places involved in play-based learning both have a significant effect.
Research also tells us that play-based learning is extremely valuable for a child's holistic development. Lev Vygotsky (1896–1934) suggested that social aspects of learning allow children to strengthen and extend their knowledge and skills. He observed that learning was most effective when children were engaged in activities within their 'zone of proximal development' (see Getting started with active learning), being supported and challenged by significant, knowledgeable adults and more competent children. Many researchers support Vygotsky's view that this type of guidance and encouragement, sometimes referred to as 'scaffolding' (also 'coaching' in this guide) is essential for learning in the early years (see the work of Jerome Bruner in Smidt, 2011).
Vygotsky also noticed that, in some types of play, such as pretend play, children are required to show their highest level of 'self-control.' This is because, in pretend play, children often reflect their experiences of particular roles and cultural practices in society. For example, if a child is pretending to be a nurse, they may use a quiet voice and touch things gently. But when they are pretending to be a superhero, they may become louder and more boisterous. Vygotsky believed that the ability to control behaviour and emotion without being told to do so by another child or adult, was a benefit of play. This skill is described in more recent research as an important aspect of effective self-regulation, for example see Whitebread (2016).
So far, most of the research and theory about play-based learning has been produced in Europe and the USA. This certainly does not mean that play-based learning only takes place in these locations, but that there is still a lot to learn about how a play-based approach is defined and supported in other cultures. Some recent studies help us to build a clearer understanding. For example, Larson and Verma (1999) and Singer et al (2009) found significant differences between cultures in the time spent on play and the playful activities that children engage in. Although this research shows us that play may look and feel different depending on culture and location, it seems the fundamental nature of play-based learning is the same throughout the world – it is active, meaningful and enjoyable.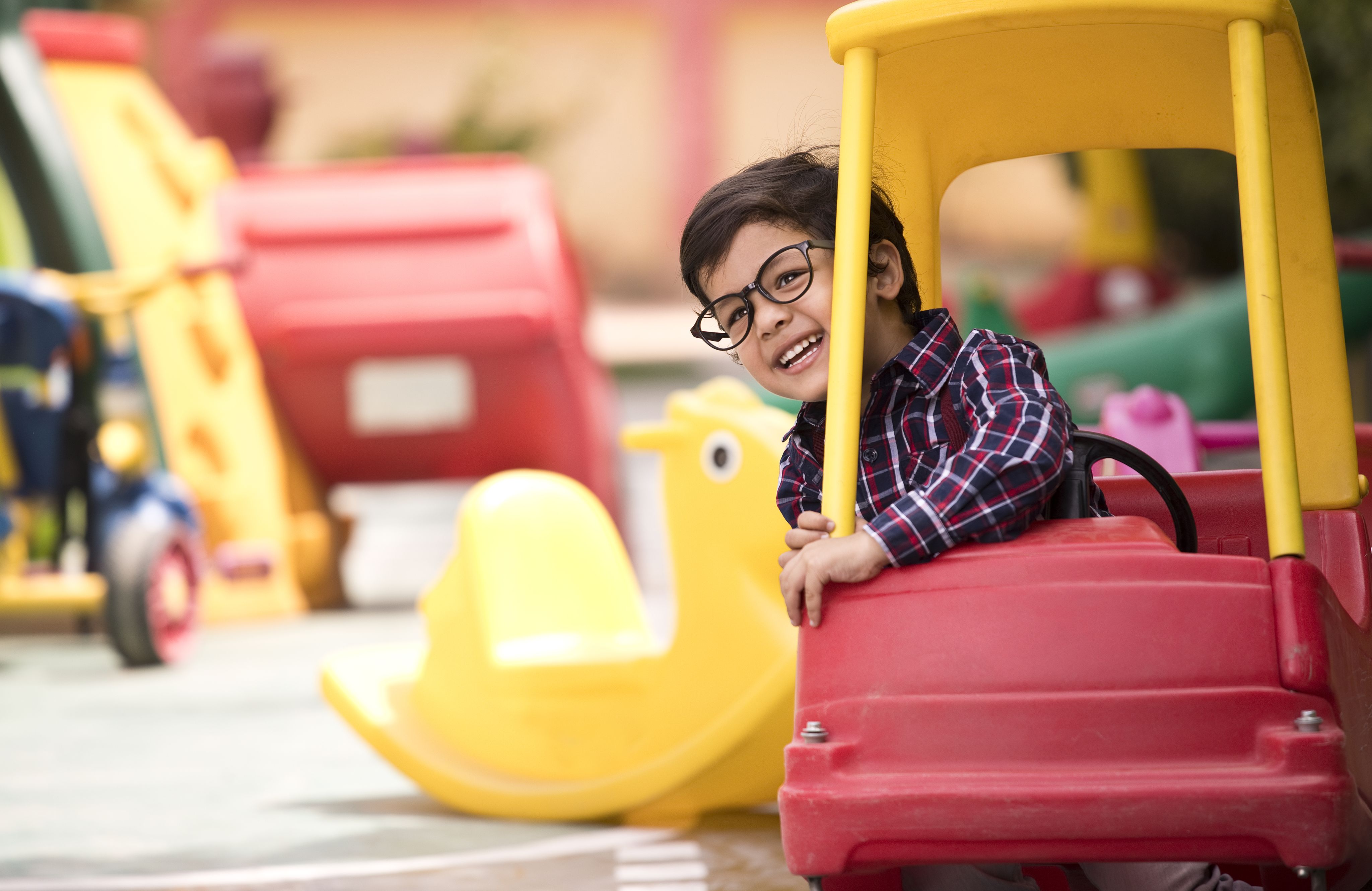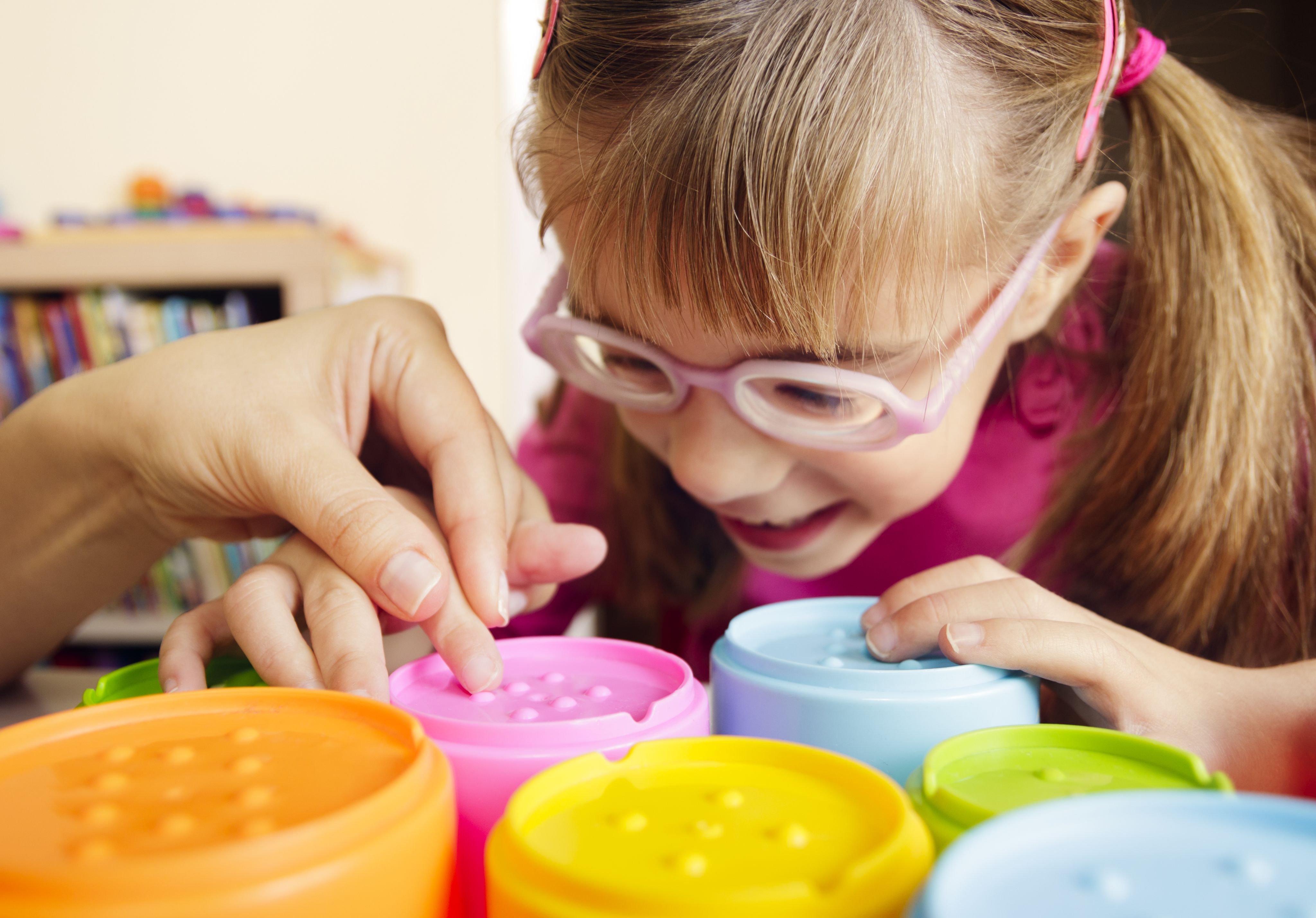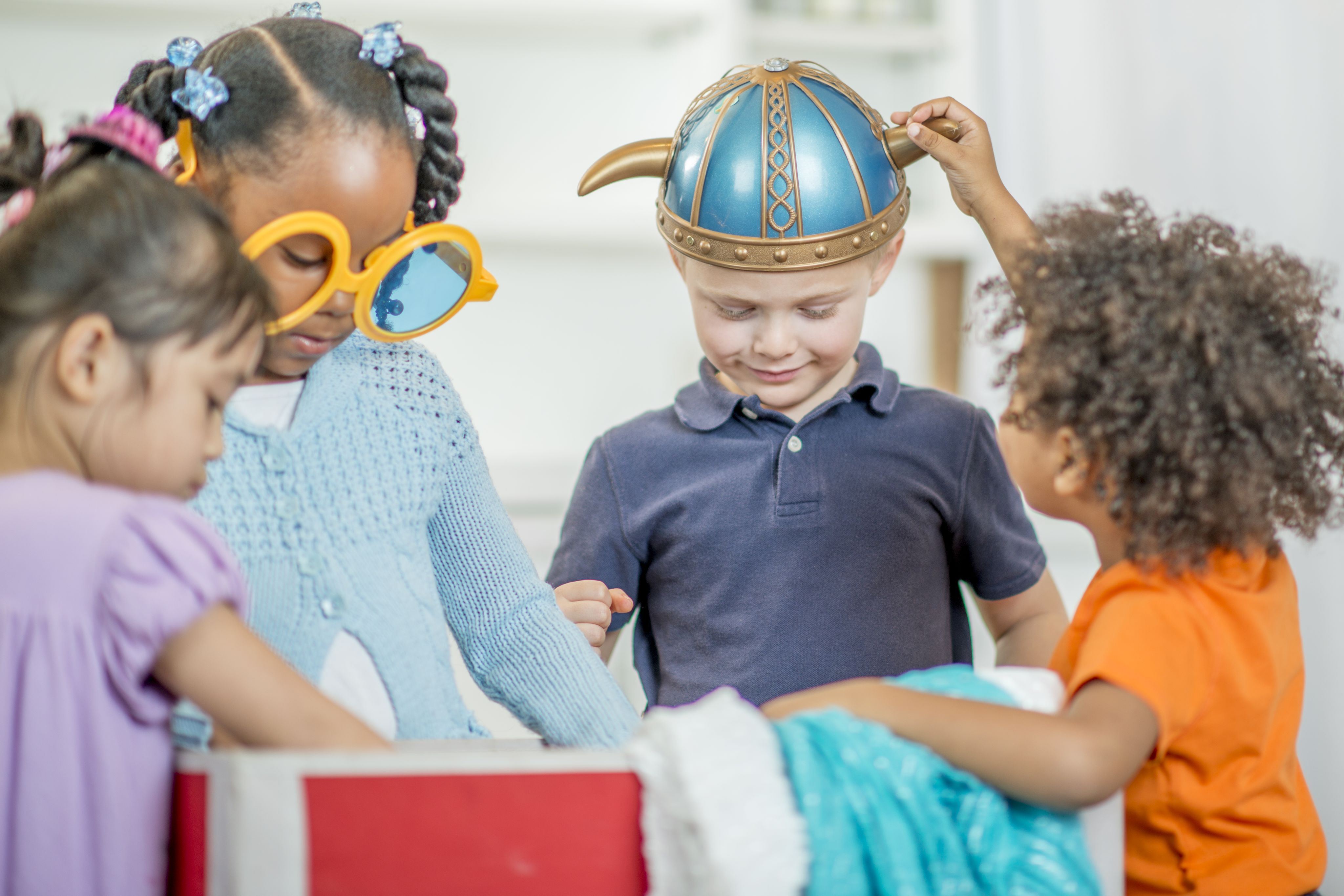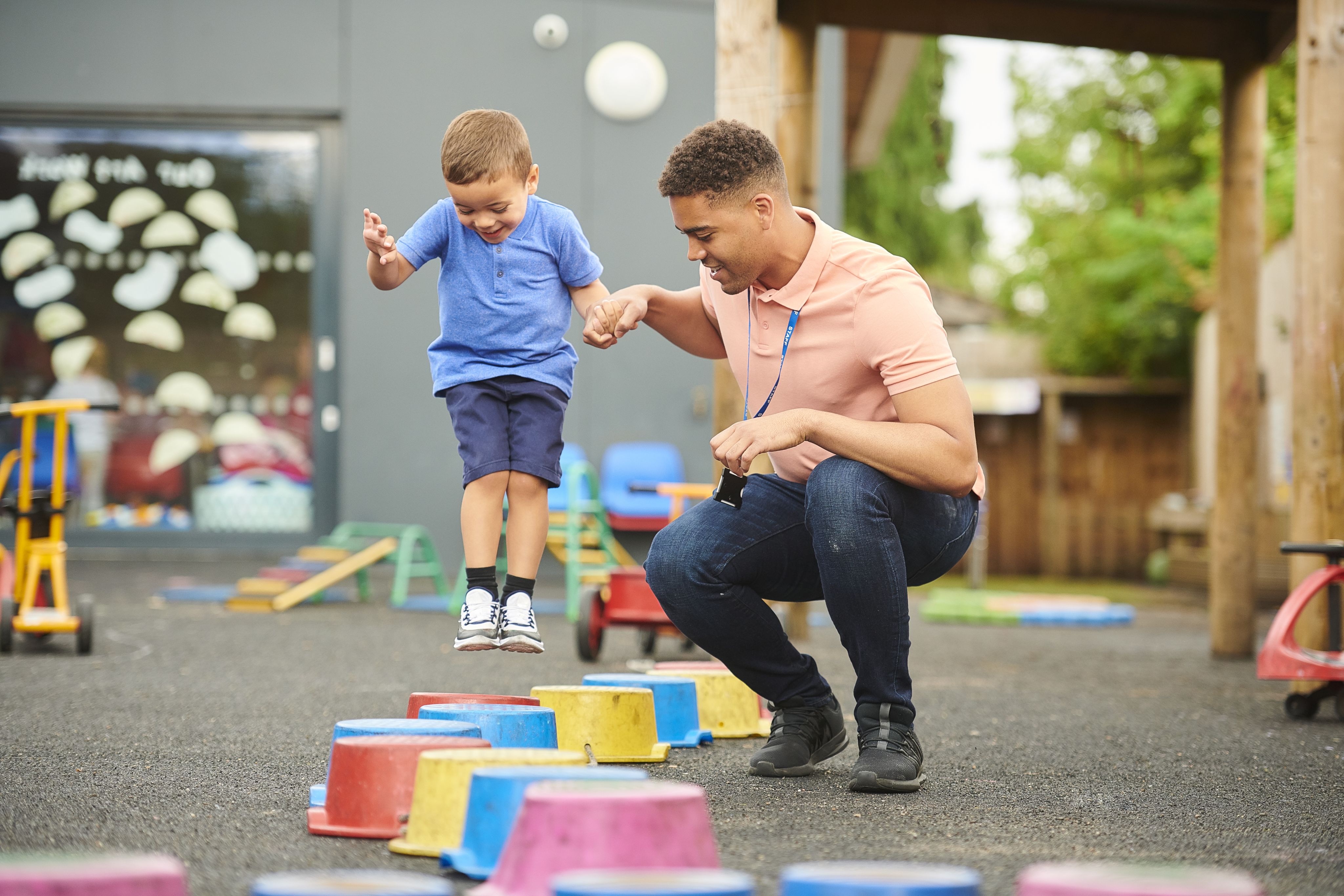 Common misconceptions about play-based learning in early years
'There is no role for early years practitioners in child-initiated play and play-based learning.'
Children develop their knowledge and skills in the most meaningful way by following their own interests and fascinations. Through play, children have the space and time to make connections in their learning and to try out and refine their thoughts and ideas. Instead of directing learning, effective practitioners act as coaches by modelling, reinforcing, extending and challenging children's learning through appropriately timed interventions and interactions. Coaching (or scaffolding) also allows you to encourage creative and critical thinking, problem-solving, exploration and investigation. All of this helps children to develop self-regulation and metacognition which will shape their future success as an adult. To get the most out of playful learning, any time that children spend doing more formal, adult-led activities should be short, purposeful, multi-sensory and playful.

'Young children come into early years settings with many different needs. It is not possible to meet each child's individual needs using play-based learning.'
Good-quality continuous provision encourages extended play. As children play, you have countless opportunities to nurture and challenge individual children according to their level of development. The resources you provide support this. For example, you might provide different sized balls or pencils to cater for different physical skills.

Varying the level of scaffolding you offer is also a useful method of responding to the needs of all children in your setting. For example, you may decide to lead an activity with a small group who have similar abilities or provide one-to-one support to make sure a child can actively take part in something they find challenging. Although you should encourage independent child-initiated investigation, you have an important role to play in making learning experiences inclusive and accessible for everyone.

'If I follow a child-initiated, play-based learning approach, the children will misbehave and it will be chaos.'
Firstly, make sure that you create positive relationships with the children in your care. Children need to be actively encouraged to have their own ideas and know that they are special and understood and respected.

Positive, nurturing relationships between practitioners and children create feelings of security and belonging. When children feel safe and supported, they experience high levels of wellbeing, which in turn leads to confidence, resilience and perseverance.

Children's capacity for successful learning is limitless when nurtured by adults who truly support the belief that anything is possible. Your belief in children as successful learners will be reflected in their confidence in themselves as scientists, mathematicians, engineers, authors, musicians, and so on.
Secondly, you need to create a rich and inviting environment that has a wide range of open-ended resources. The environment needs to be ordered, organised and well managed and you need to encourage children to help set it up and maintain it. It is useful to introduce resources to children and show possible ways of using them. Agreeing with children how and where you will keep resources will also encourage pride and responsibility.
'Learning happens in a classroom. Outdoor play is just for fun.'
Opportunities to learn outdoors are essential to young children's experiences of the world. A rich, multi-sensory outdoor learning environment can stimulate the development of many skills. For example:
The gross motor skills used when climbing, digging and carrying heavy objects help develop shoulder and upper arm strength and co-ordination, which are essential for developing fine motor skills needed for tasks such as writing.
Activities such as playing with balls and target practice develop good hand-eye co-ordination.
Playing games and sharing resources in pairs or groups helps develop social and communication skills, negotiation and co-operation.
Providing different open-ended resources outside helps promote creativity and problem-solving skills.
Encouraging children to grow their own fruit and vegetables or experiment with sand, water and mud encourages early mathematical and scientific thinking.
Play-based learning in practice
Providing an inspiring learning environment that is inviting, exciting and purposeful
A well-organised, inspiring learning environment helps create the foundations for successful play-based learning, especially in the early years. Imagine that you are a child. Is the learning environment irresistible? Is it somewhere that you want to play and explore? Does it encourage a sense of belonging? Is it a welcoming place where you can build on what you've learnt, and take risks, both physically and emotionally? Does it encourage joyful curiosity and invite you to be creative?
Play-based learning is most effective when supported by continuous provision. Continuous provision is the term sometimes used to describe the resources and areas of the learning environment that children can explore freely every day for an extended period (for example, a term or a year). In early years settings, the physical learning environment is often organised into different areas, both indoors and outdoors, and has a wide range of resources that challenge and engage children. Continuous provision encourages choice and autonomy, giving children opportunities to spend time on one activity or move between activities, depending on what they prefer. To encourage high levels of engagement, it is important to allow children to explore and engage with continuous provision for uninterrupted periods of time in every session.
Providing open-ended resources and activities and encouraging children to respond to these in their own way, makes sure that opportunities for play-based learning are appropriate to children's development. Open-ended resources are objects or substances which have no particular purpose or method of use. For example, blocks or modelling clay can be used in a wide variety of ways, compared with something which has a more specific function, such as a toy car. The open-ended resources offered within a play-based learning environment should be guided by the needs and interests of the children. A well-resourced environment should not be too full and cluttered. It is better to have fewer, good-quality resources that invite children to investigate purposefully rather than lots of items that have limited use. Observe children's choices to see what is and is not popular and what could be extended or changed. Consult children about any changes – you may be surprised by the good ideas they have.
Other important characteristics of an effective play-based learning environment are language-rich resources and interactions. Try to convey meaning using many forms of language, such as images, symbols, written text, gestures, music, singing, conversation, instructions and commentary. This will not only help develop children's spoken and written language, but will also encourage them to engage in many different types of play. It is also useful to have books throughout the environment. As well as having a reading area, books can be matched to different areas of continuous provision, for example a simple recipe book in a kitchen role-play area.
Consider: the physical layout of the environment and how to use furniture and resources in the most purposeful way to encourage all types of play-based learning. For example, make sure that a quiet area for rest, reading and reflection is not next to a door or an area where there may be a lot of noise or movement. Check that there is good 'flow' within the setting which allows children to easily move around and engage purposefully in activities.
Think about how effectively the indoor and outdoor provision in your setting encourages children to be curious and supports high levels of engagement. Are there any areas or resources children don't use?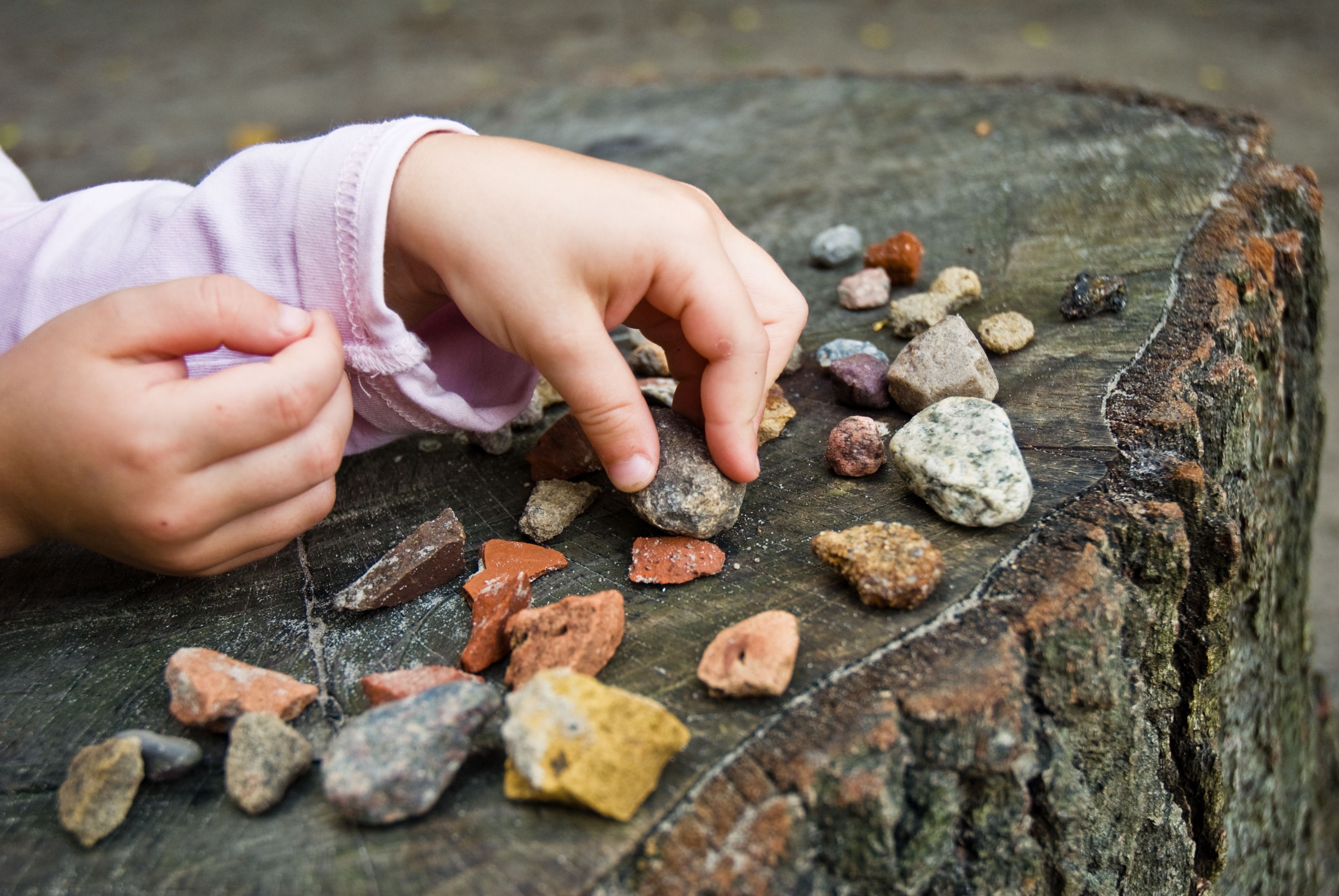 How can I support play-based learning?
You have the potential to nurture children's natural curiosity and create experiences of awe and wonder as they go about their important work of learning through play.

Watch this video to learn more about the role of practitioners in play-based learning.
You have an important role in supporting children to feel competent, secure and engaged in play-based learning. Encouraging different types of play and varying your levels of involvement allows you to support and challenge children.
Child-initiated play: when children begin and control their activities, making choices about where and how to play and what to play with.
Guided play: when an adult has an active supporting role in children's play, for example, by asking questions to help children think about what they are doing, or by providing resources which shape children's choices.
Adult-led activities: when an adult directs children in an activity to develop a specific element of learning, for example, asking children to take part in an activity which develops a fundamental mathematics or phonics concept.
The types of play-based learning experiences offered to children will be guided by your observations of their holistic learning and development across all areas (social and emotional, physical, cognitive, communication and language).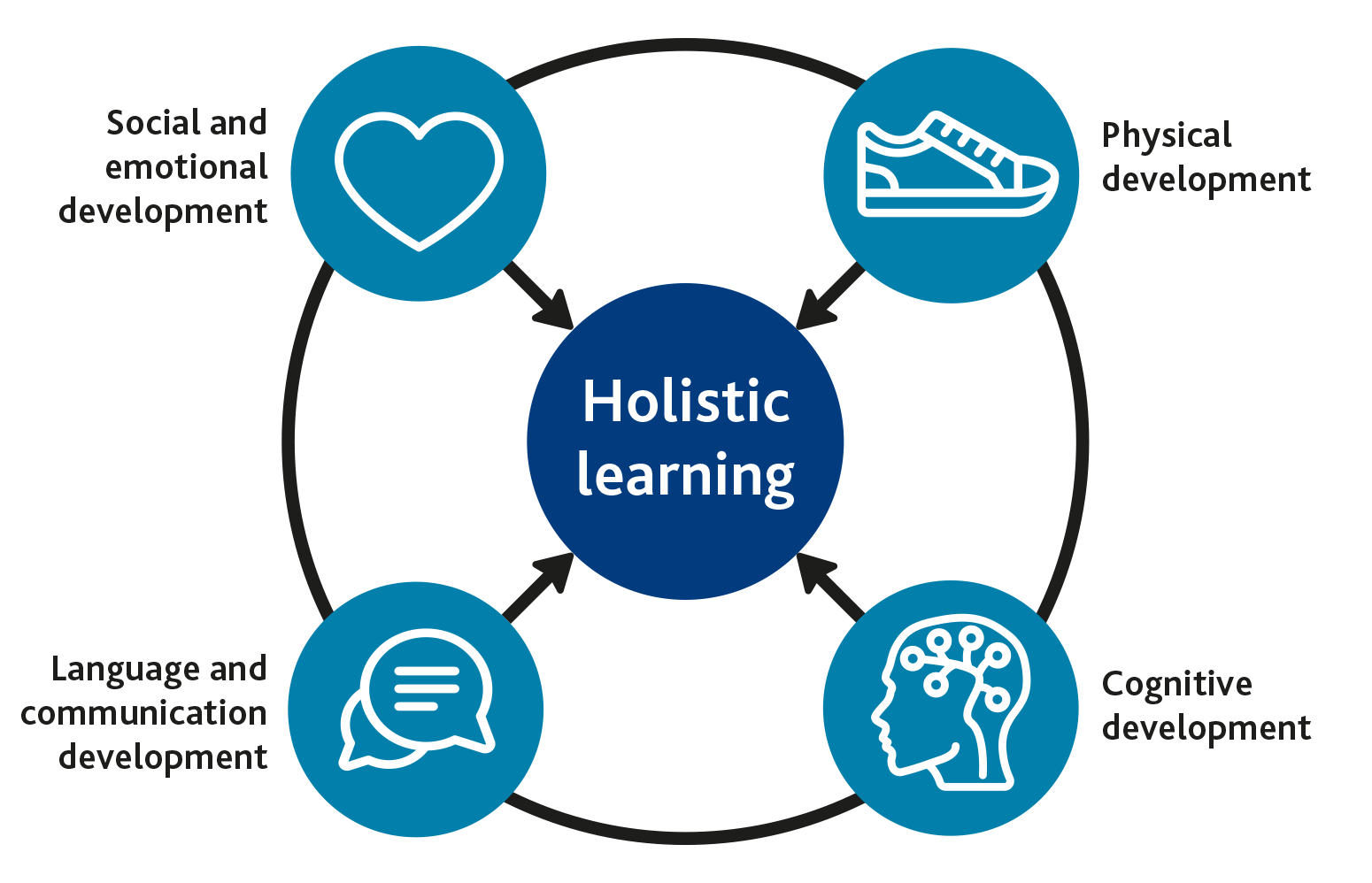 For example, guided play and structured games are good for scaffolding learning and modelling positive behaviours, whereas child-initiated play is ideal for encouraging children to explore their own interests in depth.

Varying the frequency, tone and volume of interactions with children creates moments of suspense and surprise, mystery and magic. Singing instructions is another engaging way to communicate. A recognised signing method can also be useful.

Crouching, kneeling or sitting to engage with children at their level helps them feel valued and important. This means they are more likely to share with you what and how they are learning. Playing with or alongside children provides many opportunities to communicate and coach. For example, if playing alongside a child, you might talk about your own actions, such as 'My tower fell down so I'm going to try again using these bigger blocks instead.' This encourages children to talk about what they are doing. They may even provide you with instructions!

Effective questions can build on children's own ideas but also guide them towards specific learning experiences. These could be coaching-style questions (for example, 'How could we solve this problem?') or questions that naturally develop through exploring the learning environment (for example, 'I wonder where that snail has been?') or in role-play activities (for example, 'How much money do I need to buy this apple in your shop?'). It is important that any questioning or dialogue does not interrupt learning. Levels of engagement and involvement can help guide your decisions about when to interact with children. You may find it helpful to use a tool such as the Leuven scale (developed by Ferre Laever at Leuven University, Belgium) to help you make these decisions.
Playful adult-led activities
Playful adult-led activities, when carried out appropriately, can be beneficial in a play-based approach. Adult-led activities should be fun, short, focused sessions taught with pace and purpose. These activities should extend the benefits of play-based continuous provision. The length of these sessions should depend on how engaged the children are. In some settings, adult-led activities might last no more than five minutes at first and could build up to 30 minutes by the very end of the early years. It is important to cautiously monitor children's behaviour in all adult-led activities. If children seem overwhelmed or disengaged, don't be afraid to stop and start again at a later date when they are ready. The more playful each adult-led activity is, the more likely it is that children's learning will benefit.

In the later stages of early years education, the timetable will often include more adult-led sessions. If you are responsible for the timetable, be flexible and responsive to the needs of your children. It is essential that they still have uninterrupted play every day. This is when children explore and apply their learning in their own unique way and is crucial in their development as intrinsically motivated learners. Encouraging children to reflect on their learning in both adult-led activities and self-directed play develops metacognitive thinking (see Getting started with metacognition). Metacognition is beneficial for young children as they move from informal play-based methods and practices to more formal teaching in primary and secondary school settings.

Consider: How could you make the interactions you have with children in your setting even better? How much of your time is spent having conversations with individual children, or small groups? If you think you would like to do this more, how could you achieve this?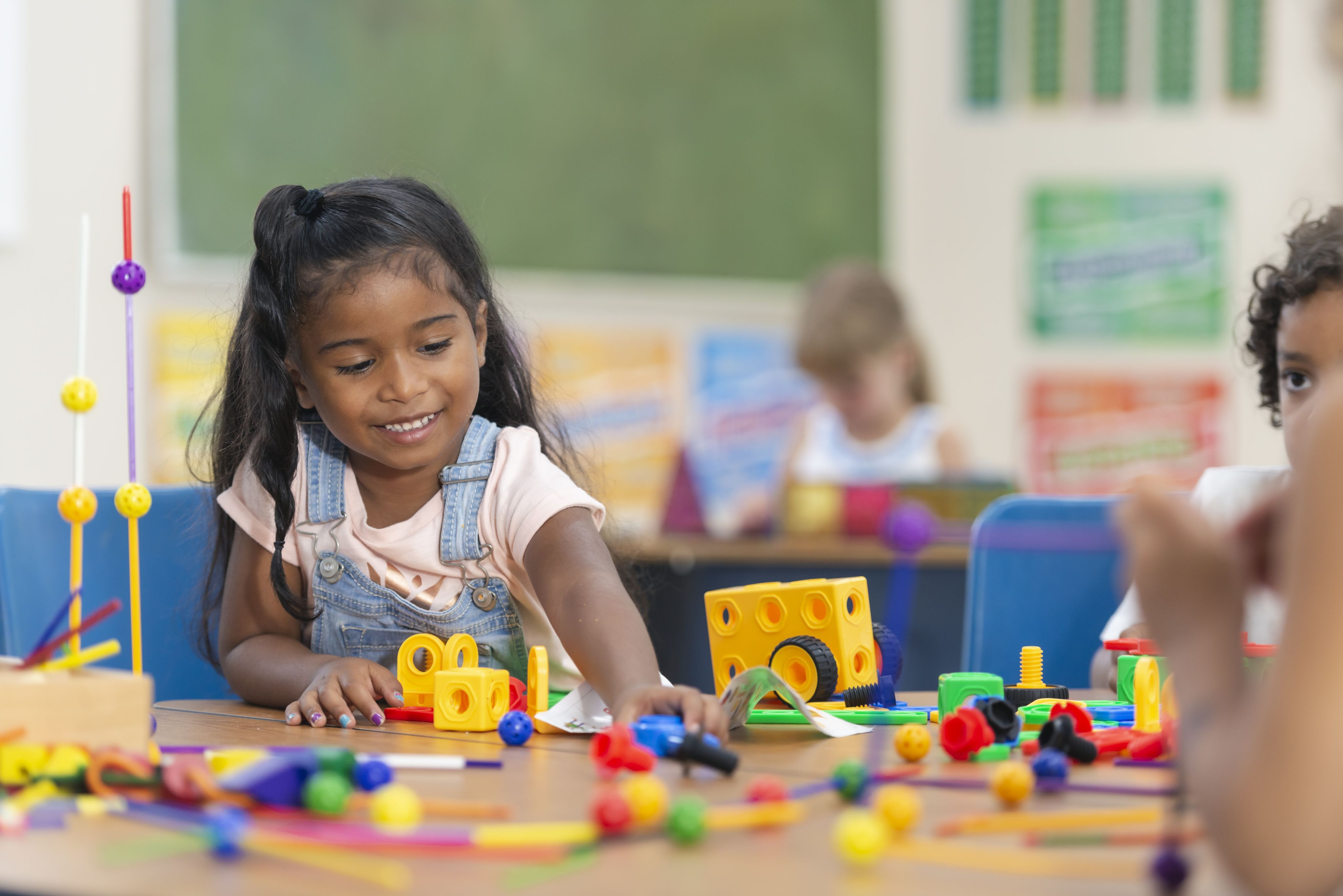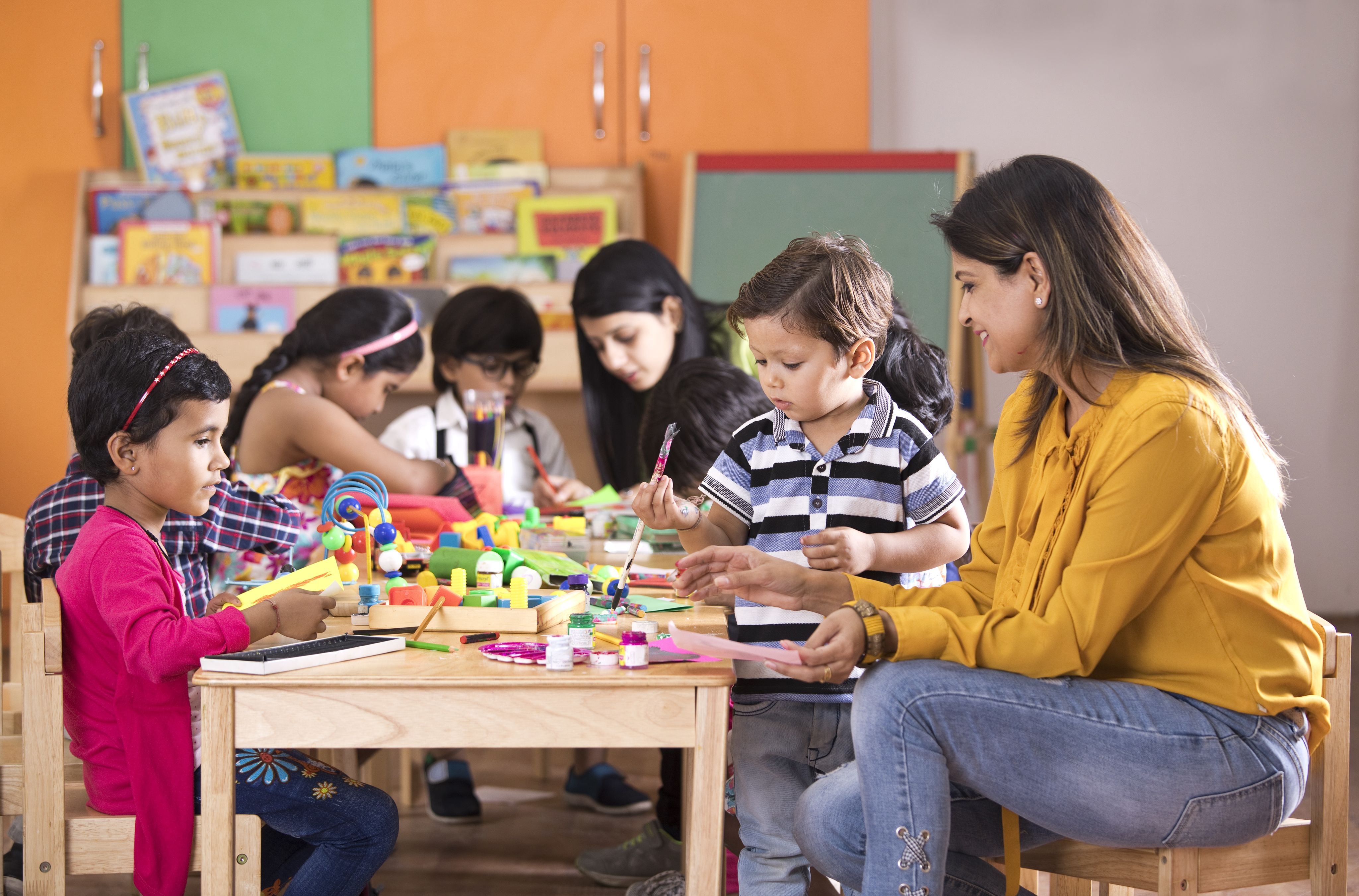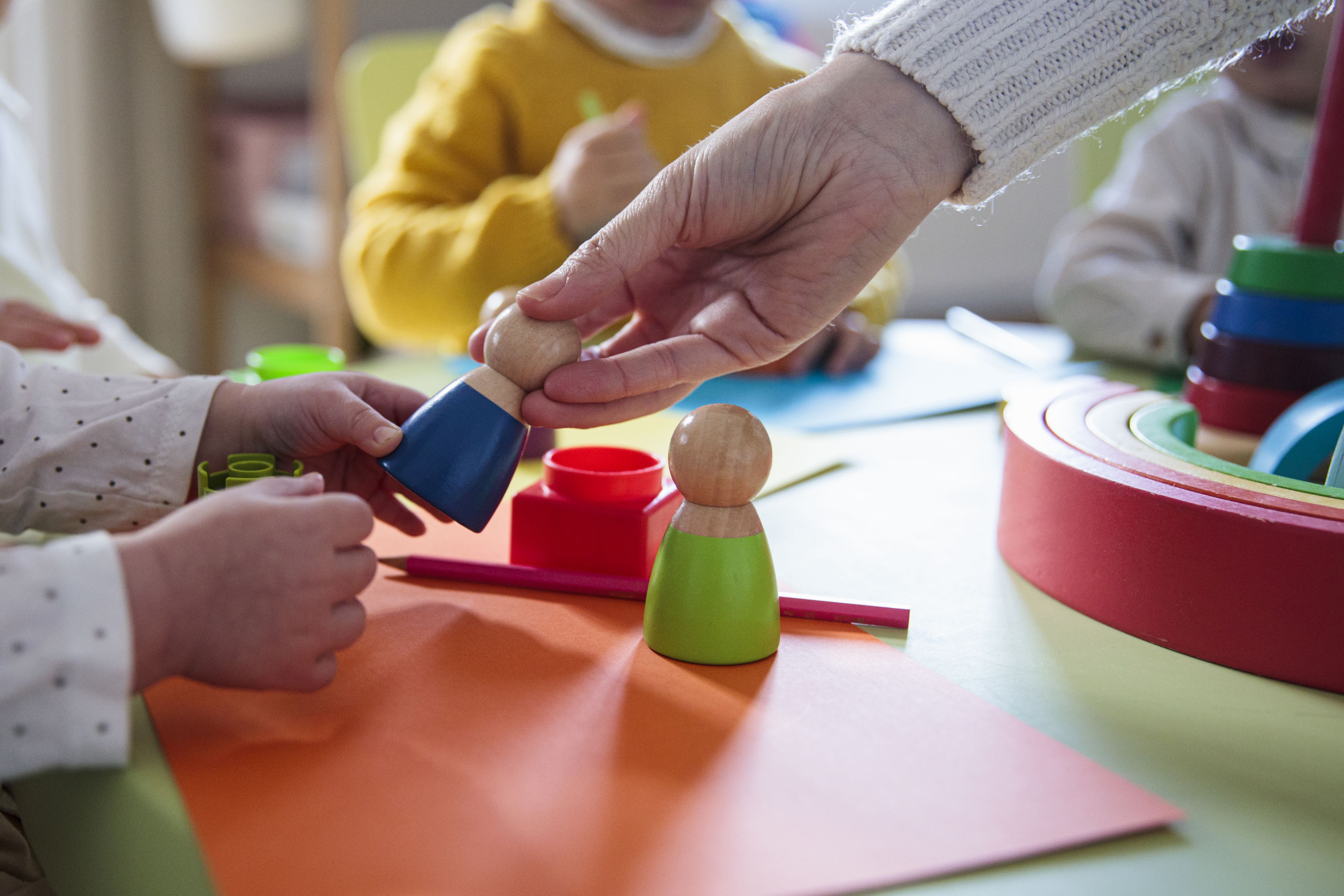 Stimulating play-based starting points for reading, writing and mathematics
As children expand their knowledge and understanding of the world through play-based learning, there are countless opportunities for you to help them develop their reading, writing and mathematics.
Reading
We have previously mentioned the importance of having a language-rich continuous provision that includes written words, books and symbols. Building on this, there are many other play-based opportunities for early reading activities. For example, you might consider creating 'book bags' containing dolls or figures related to popular children's stories, so that children can play out the stories. Or perhaps you could provide miniature versions of street signs or common brand-name logos that children can read and use in small world play (play that involves the use of small-scale models of places, people and animals).
Writing
Writing requires the development of hand, arm and shoulder muscles. Providing children with workable materials such as clay and dough not only encourages creativity but also helps them build the muscular strength needed to write. Children further develop their fine motor skills by using sticks, feathers, fingers (or anything!) to make marks in sand, bubbles and other messy materials.
Many early writing opportunities arise when you are immersed in the playful world of children. If clipboards, paper and pencils are included in each learning area, children can use them to make tickets for journeys or a shopping list using marks, letters or words.
This video provides some further suggestions on how to encourage reading and writing in play-based learning
Mathematics
An inviting, play-based environment offers plenty of ways to engage with early mathematical thinking and language. You could create a display of the daily routine with clock faces to represent a few key times (for example, break times, end of the day), and pictures that you add each day to show the sequence of activities between those times. A mud kitchen could have recipes using an appropriate mix of pictures and words, for example, 'Sand cake. Mix 1 cup of sand and 1 cup of water. Make a shape. Add leaves and flowers.'

You can help children to learn through playful, appropriately timed interactions and interventions. For example, as you play alongside a child with limited language you could offer a commentary and questions, including using gestures to support these. For example, 'My car is red. Is your car red? … My car has 1, 2, 3, 4 … My car has 4 wheels. Does your car have 4 wheels?'

This video provides some further suggestions on how to encourage mathematics in play-based learning.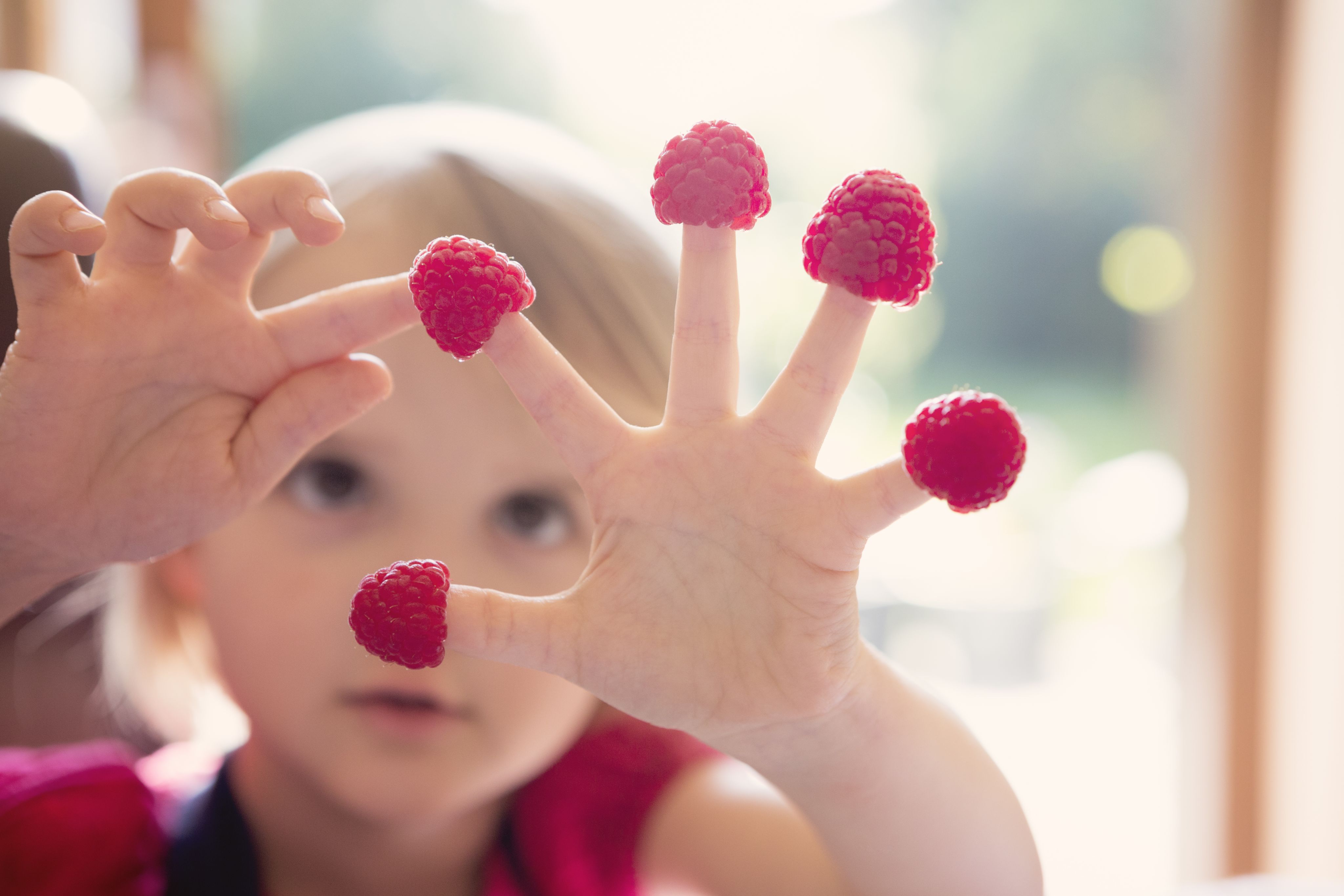 'In playful learning, children try out ideas, test theories, experiment with symbol systems, explore social relations, take risks, and reimagine the world.'
An Early Years Checklist to reflect upon
Reflective practice is a crucial part of following an effective play-based learning approach (see Getting started with reflective practice).
The following video and questions may help you reflect on your own practice.
How can I set up the learning environment to make sure there are high levels of play-based engagement and involvement for children and practitioners?
Every early years play-based learning environment will look different depending on the needs and interests of the children in that setting. Consider how you will set up your continuous provision to encourage play-based exploration and engagement, leading to learning, independence and wellbeing. Invite children and their parents to talk about their interests. Open-ended resources which can be used in a variety of imaginative ways are essential, along with interesting and unusual objects and materials.

The Expertise Centre for Experiential Education has produced a list of 10 action points that can help you focus your learning environment on the wellbeing and involvement of children.

How will I make sure the interactions between children and adults support play-based learning?
The interactions you have with children in an early years setting can make a significant difference to their learning and development. Make sure that when you offer children praise, it is specific. For example, 'You got that ball in the net today because you did not give up. I have seen you practise all week; you have been persevering.' This helps the child to recognise their learning and gives them specific language to describe their learning. This is much more effective than, for example, 'Great job, you scored a goal.' Try to support your spoken language with gestures and facial expressions.

Make sure that your interactions are warm, sensitive and always focus on the wellbeing of the children. Encourage communication and critical thinking and most importantly, give children time to respond. Respect the children and give them power by letting them make decisions about their play.

How will I carry out meaningful observations, making sure they guide future planning but do not intrude in high levels of involvement and engagement?
Once immersed in the play-based world of the children, you will find that you are observing all the time! Scaffolding their learning depending on what you observe should become a continuous, smooth practice that adds to the quality of interactions and does not detract from them.

You can write a note of your observation as you interact with children. Notes should be specific to the learning you are observing, not just a record of an activity. This can also become a learning opportunity, as curious children will want to know what you are doing and might even suggest what they want you to write. Always try to capture the child's voice word for word, as this is an invaluable insight into their developing communication.

Photos and videos are also useful for recording observations but should be used sensitively and purposefully. A few well-chosen images are far more meaningful than an album, and can be shared with parents or carers who can also comment on the learning they have seen.

Whatever you do, keep it simple and organised and involve all adults in your setting. Shared observations create a more comprehensive view of children and their progress. You may want to plan a cycle of weekly observations to make sure that every child is observed regularly by all practitioners. You can then decide how you will gather these observations during reflection and planning meetings and by consulting parents or guardians.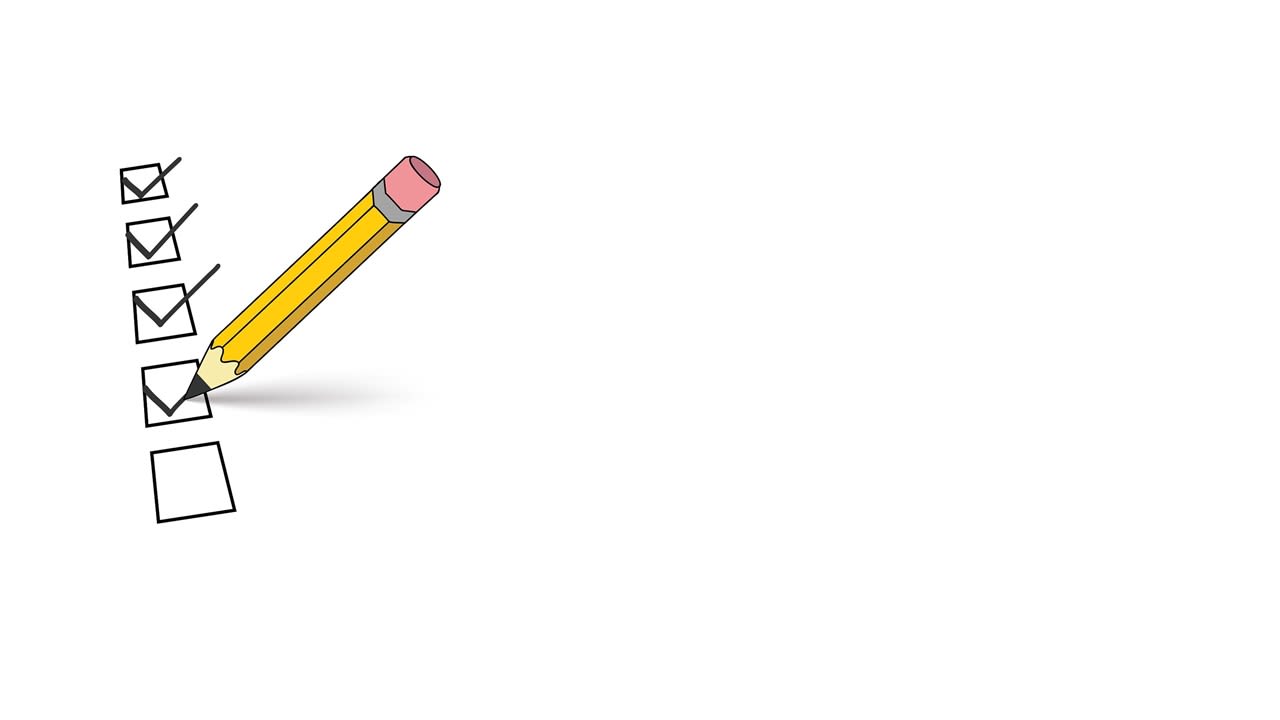 Next steps
Following a play-based approach can be both rewarding and challenging. As each early years setting and practitioner is unique, the next steps you take in following a play-based approach will be unique to your cultural context and the children you teach.
Start slowly and make small changes over time to make sure your approach is having a positive effect on the learning and wellbeing of children and adults in the setting. Here are some suggestions to extend and develop your understanding of play-based learning in early years.
Write down some practical tips from this guide. Thinking about your environment and your practice, what could you change tomorrow? What could you plan to change next term? What could you plan to change next year?
Read more about play-based learning by exploring some of the books, journals and websites in this list and in the Play in Education, Development and Learning (PEDAL) Hub Library. As you read, make a list of practical ideas and try them in your setting. Make a plan of how you will evaluate the success of each change you make. Were the children more engaged? Did it improve learning opportunities for children of all abilities?
Plan a regular time slot to observe children and assess their needs and interests. Is your continuous provision encouraging play-based learning? Carry out a wellbeing and engagement audit of both the children and adults in your environment.
Do an audit of your physical environment, focusing on resources and layout. You can find some useful tools to help you do this in the Pedagogy of Play project (Harvard Project Zero, Lego Foundation and Billund University).
Ask parents, caregivers and members of your school community to help you find open-ended resources. For example, cardboard boxes and tubes, car tyres, lengths of drainpipe, small logs and sticks, pine cones, pebbles, shells, nuts and bolts, and containers for filling and pouring.
Complete a self-evaluation of your early years practice using the Cambridge Early Years RAG grids alongside the Cambridge Early Years practitioner standards.
Attend training to discover more about early years principles and practice, for example: Cambridge Professional Development courses or Cambridge Professional Development Qualifications.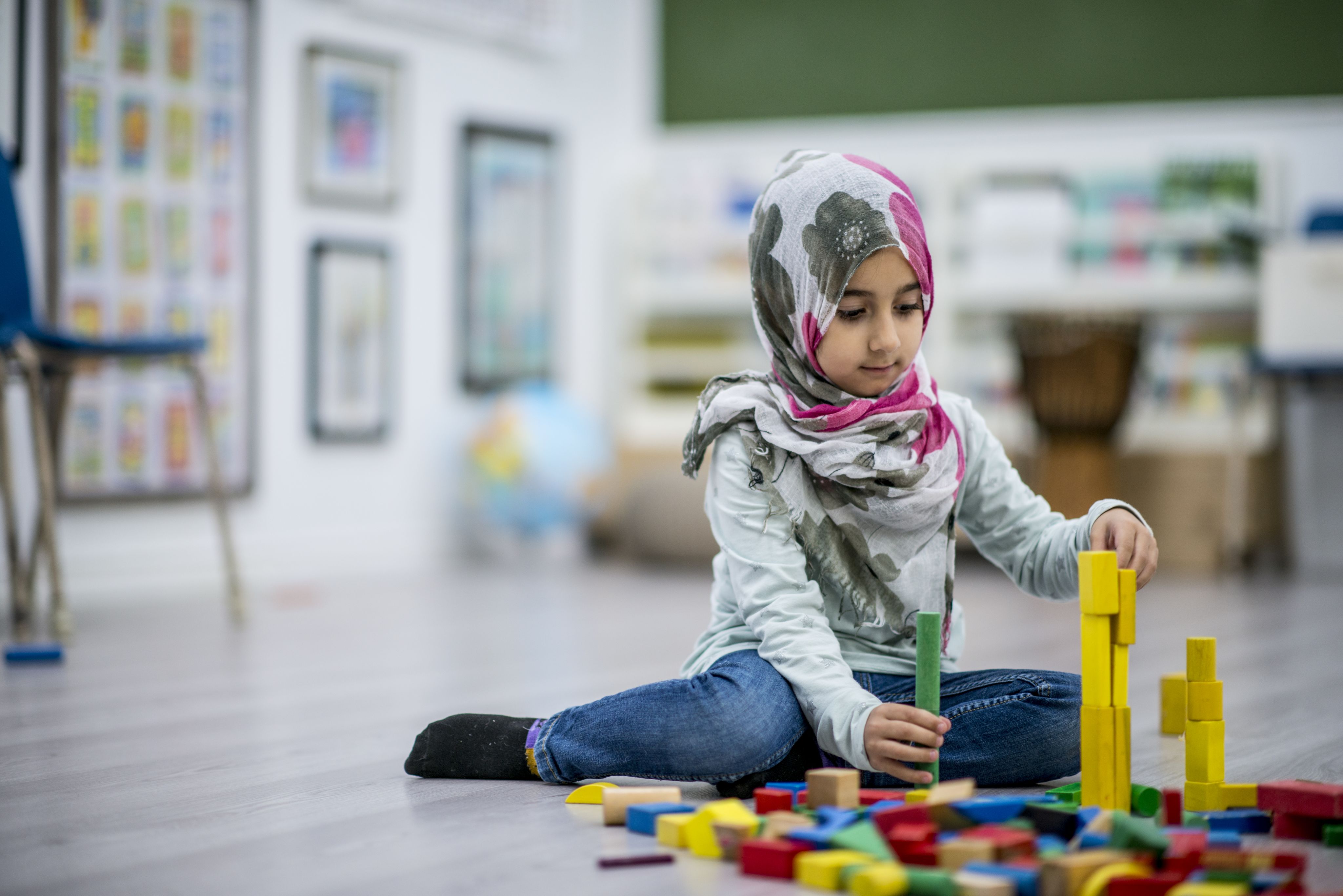 Glossary
Active learning: putting the child at the centre of their learning, so they are engaged and thinking hard, rather than passively listening and receiving information.
Adult-led activities: structured, planned activities where an adult directs children to develop specific knowledge or skills (or both). For example, an adult might ask children to take part in an activity which is focused on a particular mathematics or phonics concept such as number or letter recognition.
Autonomy: a child's freedom to make choices and have control over how they spend their time.
Child-initiated play: when children begin and control playful activities, making choices about where and how to play and what to play with.
Coaching: where an adult identifies a child's skill development level or level of knowledge which they can then challenge or reinforce and improve through questioning, praise or commentary.
Continuous provision: resources and areas of the learning environment (both indoors and outdoors) that are available every day for children to freely access and playfully explore (for example, a role-play area).
Engagement: the attention, curiosity, interest, energy and motivation that a child shows in whatever they are doing (that is, how far they are performing at their fullest potential).
Guided play: when an adult has an active supporting role in children's play, for example, by asking questions to help children to think about what they are doing, or by providing resources which shape children's choices. In guided play, children still keep some control of their own learning.
Holistic: supporting the development of the whole child (their social and emotional, language and communication, physical and cognitive development), and planning learning experiences that bring together different areas of the curriculum.
Intrinsic motivation: the desire to do something which is driven by a child's own goals or ambitions and does not depend on reward or praise from others.
Metacognition: children being increasingly aware and in control of their own mental processes, and using this awareness to become more effective learners. For example, talking about how they plan to carry out a task, making changes to their plan during the task and talking about how successfully they completed a task.
Model: use good practice as an example for children. For example, an adult might demonstrate a skill or explain their thinking to encourage children to copy this behaviour or thought process.
Multi-sensory resources: objects or stimuli which involve using more than one of the five senses (sight, smell, hearing, touch and taste).
Open-ended resources: objects or stimuli which have no specific direction or purpose, and no particular use, process or outcome.
Pedagogy: the methods and practices of teaching and learning, including how the educational environment is managed, the resources and activities provided, and the type of educational interactions which take place.
Play: engaging child-initiated or adult-led experiences which involve children actively. It includes physical play, play with objects and materials, symbolic play, pretend play and games with rules.
Scaffolding: Practitioner provides appropriate guidance and support to enable learners to continue to build on their current level of understanding to gain confidence and independence in using new knowledge or skills.
Self-regulation: being aware of and controlling your own thinking, learning and emotions.
Wellbeing: how individuals feel and function, cognitively, physically, socially and emotionally. This can include how we recognise and manage positive and negative emotions and how able we are to engage in meaningful activities and interact with others.